We recently partnered with the University of Winchester in Hampshire to deliver a library relocation project. The University has been delivering world-leading higher education since 1840 and was shortlisted for The University of the Year in 2017. The University has a strong commitment to sustainability and maintaining a green campus, and has won numerous green impact awards.
Business Moves Group has been a relocation partner of the University of Winchester for more than three years. During this time BMG has completed a number of library moves and furniture relocation projects across the estate, supporting the university in setting up for the return of students after Covid-19. 
Library relocation
The University's Martial Rose Library was due to undergo a refurbishment, so BMG was tasked with packing and relocating books to two locations – the West Downs library and on-site storage. The move took place in January 2023 and was delivered over four days by a team of six. We moved more than 8,000 books from 800 shelves using 450 crates.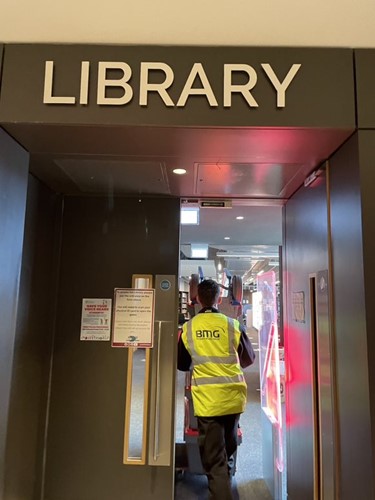 A pre-move site visit was arranged between the library and Business Moves Group to determine the scope of the project and agree on a timeline to complete the work that would cause minimum disruption to students and staff.
The University provided a brief, giving details of what needed to be achieved, target dates and the areas involved. From this information BMG worked with the library to produce a schedule detailing key dates and milestones, and identify any challenges, and determine the equipment that would be most effective to help deliver the relocation.
We settled on a two-phase approach. First, we relocated a set of books from West Downs to an onsite shelving storage facility. This freed up space for books to be relocated into West Downs from the Martial Rose library.  
Specialist equipment
To ensure a successful project we used library trollies, a specialist piece of equipment specific to BMG for library moves. They allow books to be packed in sequential order whilst remaining accessible to staff and students right up until the moment it leaves the building, and books can be accessed as soon as the trolly reaches the new location. Our expert team carried out the packing, relocation and unpacking of the two library areas, making sure books were kept in alphabetical order between their old and new location. This is done through completing pre-move shelving mapping and labelling, with each shelving unit given a unique letter, and each shelf given a unique number.
Client satisfaction
Sarah Bulger, head of knowledge services at the University of Winchester, said "Our priority is always student experience and we wanted to ensure that there would be minimum disruption during the project, both in terms of availability of books and noise disruption. The BMG team were a pleasure to work with and delivered the project ahead of schedule. We look forward to engaging with the team again for future relocation work".
Experts in education relocation projects
Business Moves Group supports a number of higher education institutions with relocation and estate management projects. View our full range of services and contact us to discuss how we can support your institution.