We recently partnered with TLT LLP for a workplace relocation project at its Glasgow office. We first supported the firm in 2020 when our Southern team delivered a relocation in Watford. After a successful project, TLT was confident that we'd deliver again in Scotland.
TLT is a renowned law firm with six UK offices and international reach across Europe, the US and India. The company was named 'Law Firm of the Year' at The Lawyer Awards 2021, 'UK Law Firm of the Year' at the British Legal Awards 2022 and is one of the most successful law firms in the UK. TLT offers a wide range of legal services across several sectors.
Workplace relocation in Glasgow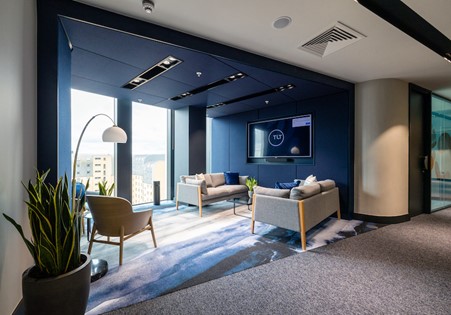 Business Moves Group supported TLT with its move from West George Street to Cadworks, Glasgow – one of the most sustainable buildings in Scotland. The new premises consists of 10,000 sq. ft on the top floor of at the Grade A office building located in the heart of the city's commercial district.
TLT is passionate about providing a fully flexible, progressive and inclusive work environment, and Cadworks' innovative, sustainable office design helps them to achieve this.
Confidential materials
The move took place in June 2022 and was delivered over two days with a team of 11, moving office equipment, personal belongings and more than 280 crates containing highly confidential files.
During the pre-project planning, the client stressed the importance of handling the files with care and moving crates according to the highest security standards.
We have extensive experience in handling sensitive materials from our work with other legal firms, as well as in healthcare where we have transported patient files. Our team was fully equipped and briefed to ensure that every single file was accounted for and secure throughout the move.
Supplier of choice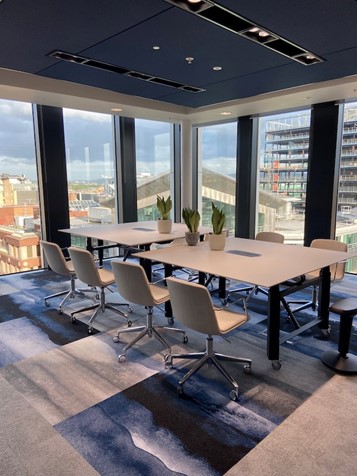 Following the success of the TLT relocation, BMG remains the preferred supplier for any future moves and workplace changes. Since the move was completed, our Northern team has been invited to return to TLT for a tour of its new office space – the décor and views across the city are a must see.
"I just wanted to pass on my thanks to you and the team for all the help and assistance in getting us moved from West George Street to West Campbell Street. It all went very well, and the team was really helpful" – Georgina Stuart, Office Manager, TLT LLP
We support businesses across the UK with workplace change and relocation projects. Visit our Scotland page for more details about our support north of the border, or our locations page to find support in your area.