We've built up an outstanding reputation among our clients in our near 40 years of business. One way that our clients know they can rely on us is our list of accreditations and affiliations. These are externally audited and approved, and require Business Moves Group to demonstrate the highest standards in the services that we deliver, from commercial moves to health and safety.
Linda Wheatley is our group compliance director and has overall responsibility for accreditations at affiliations at BMG. This includes ensuring they are reviewed and renewed when needed and managing her central admin team to look after compliance in their regions. Her team audits different areas of the business on a monthly basis, and maintains regular communication with our moving teams to keep them updated about the latest procedures and best practice.
BMG accreditations and affiliations
British Association of Removers (BAR)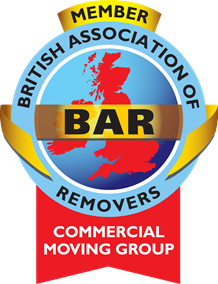 The British Association of Removers was founded more than 100 years ago and is dedicated to promoting professional excellence in the removals industry by developing and maintaining professional standards and services for the benefit of its members and their customers. BMG has been a member since the 1980s and was previously named Commercial Mover of the Year, an annual competition held by the BAR.
BAR BS8522:2009 Quality standard for commercial moving
This standard requires that we:
Define the scope for a commercial moving service, obtain preliminary information from the client and supply quotations
Undertake the commercial removal
Monitor the commercial moving service.
This was introduced in 2009 and we have held it since then, which includes all of our branches being audited each year.
ISO 9001:2015 Quality
This standard ensures we follow company policies and procedures which results in us providing a quality service that meets customer and regulatory requirements. We first achieved this in 2006 and upgraded to the new standard in 2017.
ISO 14001:2015 Environmental
This environmental standard relates primarily to our recycling services and landfill diversion processes. We first achieved this in 2011 and upgraded to the new standard in 2017. We also hold a waste carrier licence with the Environment Agency.
ISO 45001:2018 Occupational Health & Safety
This health and safety standard has been achieved through training our staff in various health and safety and risk assessment processes. We first achieved the standard in 2019, having previously held OHSAS 18001.
SafeContractor Safety Schemes in Procurement (SSIP)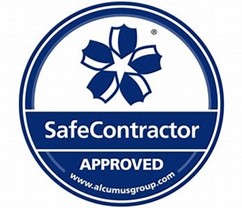 SafeContractor demonstrates to potential and existing clients that we meet specific standards of health and safety, such as training, policies and insurance. We first achieved this in November 2010 and have renewed annually since then.
Contractors Health and Safety Assessment Scheme SSIP
This is another health and safety accreditation that gives our clients further peace of mind with regard to our policies and procedures. We achieved this in late 2022 and will review at the end of 2023.
Constructiononline GOLD supplier
This is similar to SafeContractor tailored towards for the construction industry. We first achieved this in 2014 before reaching the gold level in 2018.
Royal Society for the Prevention of Accidents

First achieved in June 2009 and renewed annually. We use RoSPA as a source of advice and information in addition to the accreditation.
Achilles
UVDB Verify – Achieved September 2010, audited and reviewed annually with updates throughout the year.
RISQS - Achieved August 2012, reviewed annually with updates throughout the year.
ISS ProcurePass – Achieved July 2017, reviewed annually with updates throughout the year.
Services Community – Achieved November 2017, reviewed annually with updates throughout the year.
We hold these four Achilles accreditations to meet the supplier criteria for particular clients or industries. UVDB is for utilities companies, RISQS is for the railway industry, ISS is for a client supplier compliance requirement, and Services Community is for the service and transport industry.
International Office Moving Institute
An office moving resource company that offers training that various people within BMG have attended. We first became affiliated in 2002.
Future plans
In addition to the renewal of the above accreditations and affiliations, we are always on the lookout for others that will enhance our services and further demonstrate our commitment to maintaining the highest possible standards.
For more information, visit our compliance page or get in touch with Linda Wheatley via email – lwheatley@businessmoves.com.