Business relocation is about far more than ensuring furniture turns up at the right place at the right time. Relocation specialists are responsible for the safe delivery of valuable and delicate items which may require specialist transport and storage.
This expertise is the reason why a major health provider in Scotland first partnered with Business Moves Group in 2014, and the reason that this partnership has grown over the last seven years.
During this time, we have regularly supported the client with relocation projects on varying sizes. This includes support during Covid that was outside of our usual scope and required a quick turnaround.
Support during the pandemic
In March 2020, the client approached BMG to ask for support in the distribution of vital medical supplies and equipment. We jumped at the opportunity to provide help in such a critical period.
To date, we have distributed over 500 pieces of equipment and thousands of consumables including ventilators, incubators, and syringe pumps, covering more than 10,500 miles in the process. Much of the equipment has been essential in providing vital medical care for cases of Covid-19.
Why a relocation specialist?
Usually, such medical equipment delivery would be handled by in-house logistics teams but during the pandemic, demand was extreme – especially in the early months.
Equipment had been delivered from countries throughout Europe and needed to be collected and delivered to hospitals and clinics across the country. Doing so rapidly and efficiently was a huge challenge, which is why the client decided to bring in specialists.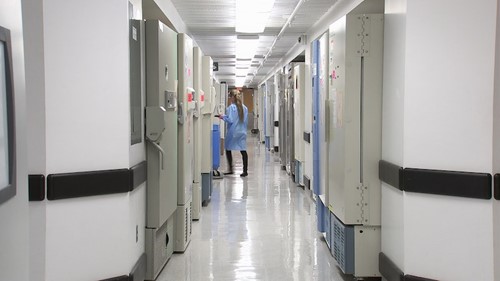 Delivery of medical equipment may not fall within the day-to-day remit of a relocation specialist. However, we had the experience, network and ability to adapt to this new challenge better than most. Indeed, the client approached us on a Friday, and after an intensive weekend of training, the team was ready to mobilise the following Monday.
A relocation specialist's role is far beyond that of a traditional moving company and the process is far more complex than many imagine. The team must understand the specific needs of their customer and be able to design a strategy accordingly.
This can include processes such as personal audits in which every employee is consulted about their own needs. Delivery of specialist medical equipment clearly differs from checking whether each employee is left- or right-handed to correctly position their monitor and mouse. But this same level of attention and care is necessary to safely transport supplies and a specialist will apply this diligence to each new project.
Handle with care
Equipment must be moved with great care so there is no chance of breakage and loss. Our vehicles carrying particularly valuable resources are GPS-tracked and can be escorted if necessary. Individual items can also be GPS-tracked and crates carrying items are uniquely numbered and sealed.
For every job, the equipment is scheduled to arrive at the most convenient time – vital in a busy healthcare building where moving items around might cause disruption – and is set up by the specialist movers.
At a time when many businesses are stretched, especially healthcare providers, it is important that these services can be organised in the most cost-effective way possible. The long-standing relationship between BMG and our client allowed us to demonstrate our value offering, which is why there was no hesitation when looking for an organisation to take the contract.
In addition to expertise in addressing client needs and managing delicate and valuable assets, relocation specialists must be incredibly flexible in their working patterns. Vital medical equipment can be required at short notice so there's always a need to react quickly.
We briefed our team on this and ensured that we always had someone available, while at the same time managing our teams so that the same person wasn't always on call. Our teams needed to be sharp so managing their time and wellness was of utmost importance for us.   
The future of our partnership
While we have a long-standing relationship with this client, this was a new project for us, requiring a diversification of our services. We're delighted we helped make it a success and look forward to continuing to provide support where we can.
Technical distribution is just one of our core services. If you want to discuss how we can support your business, visit our locations page and get in touch your regional BMG contact.