Catering to flexible working patterns, the promotion of physical and mental wellbeing, and the creation of collaborative and creative spaces are all accelerating trends that have been impacting the makeup of workplaces for quite a few years.
Now, however, these themes are well and truly in the minds of business leaders.
The pandemic has turbocharged the transformation strategies of corporate offices and workspaces.
According to Mace's Workplace Survey Report 2021, around three quarters of respondents intend to make upgrades to their workplaces in the next two years, with employee experience considered as the number one priority for six in 10.
Tellingly, some 62 per cent of those surveyed said that the pandemic was a key reason behind a change in workplace strategy, with almost half expecting employees to be in the office for two or more days a week in the future.
What these findings reveal is that companies are working to improve the employee experience in a bid to attract their workers back into the office.
Just as high-street brands are having to be innovative and create experiences to lure consumers back to city centres, office-based organisations are also having to consider how they can turn their workspaces into destinations that employees want to use.
Rethinking commercial furniture strategies
From creating more welcoming, open environments which are conducive for group work to promoting physical and mental wellbeing, the way space is used is changing.
As a result, many items of furniture may become obsolete, leaving office managers with something of a conundrum regarding what to do with outdated equipment and furnishings.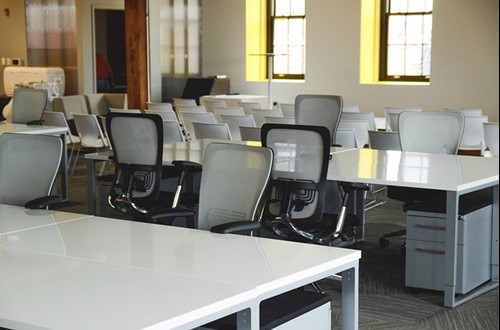 Moreover, amid announcements made at COP26 which will mandate firms to publish net zero strategies, organisations are under increasing pressure to adopt environmentally sustainable working practices, adding another dimension to the question of what to do with used furniture.
This is where a commercial business furniture strategy comes to the fore.
Comprising several steps, from creating asset lists to consulting employees, it can help organisations to formulate a plan and make the best use of unwanted items.
Making commercial furniture decisions a part of a wider business strategy
There are many paths that companies can take depending on the items and priorities in question.
The easiest option is to simply dispose of furniture and let somebody else worry about the problem. However, there are strong environmental, ethical and financial cases for thinking creatively and avoiding adding to what are already oversubscribed landfill sites.
Consider the value of refurbishment, for example. Whether you or your buyer organises the refurbishing work, plenty of furniture can be given a new lease of life to the point where it looks and feels as good as new. For purchases, it represents a cheaper alternative to buying new, so consider that there will be others out there looking to save money who may have a use for your items.
Another option is to donate to organisations such as charities. Lots of businesses we work with give their old furniture to local charities and find it extremely rewarding – for them, it is an activity that helps them to build valuable community links and bolster CSR strategies.
BMG can help facilitate this. We work in partnership with Business2Schools, a charity that works with more than 4,500 schools across the UK. They also  specialise in repurposing redundant office technology. If your company has old tech that you struggle to see a use for, do not rule out donations before properly exploring whether a charity can use it to good effect.
Finally, consider your organisation's future needs. What if, within a few months, more of your workforce comes back to the office than you anticipated? Keeping hold of some stock in storage will enable some flexibility at a rate that is more cost effective than housing it on site or buying again from scratch.
Truly forward-thinking organisations will consider how the furniture they purchase could be resued in the future. We know from the work with our charity partners that some furniture is tough to re-home, such as larger 8-person desks. Conscious procurement consider not just what works for their organisation in the short term – but what the impact these products will have on the environment in the future.
Support with furniture strategies
As organisations continue to repurpose and reimagine their workspaces with employee wellbeing and sustainability front of mind, furniture strategies will need to adapt. These are just a few ways that such strategies can be shaped as we transition back to the workplace.
Contact us today to talk about how we can support your sustainable furniture management.
By Rachel Houghton, managing director at Business Moves Group