On 31st March, the Cavendish Centre in London hosted the Workplace Trends Research Summit. The one-day event was packed full of great insight, advice and case studies. Our MD Rachel Houghton was in attendance alongside new Business Moves Group director Keith Tiltman. Here is their recap of the key learnings from the day.
Hybrid work strategies must be flexible
We're all aware that hybrid work is the future for many businesses. This can entail a mix of office and home-based work, as well as flexible hours.
One of the themes that emerged from multiple talks was the importance of employee input into the process. There have been numerous surveys throughout the pandemic that ask workers to share their preferences about being in the office. The key takeaway is that sentiment is constantly shifting.
Anisha Patel and Cara Sugrue of Steelcase shared insight from 12 major global studies they have conducted since March 2020. Among their findings was that in the UK, 58 per cent of employees prefer to work from home, and just 12 per cent want to work in the office. However, they also found that when people like working in their office they are more engaged, more connected to company culture, more productive and more likely to stay with the company.
The trick is to develop a strategy that encourages people in. As Anisha and Cara put it – "the workplace needs to earn people's commute".
We heard case studies from Avison Young, Kingston University and United Utilities about how they had started to transform their workplaces. All three had ongoing employee surveys as a key part of their strategies, with the understanding that creating and implementing a hybrid strategy now doesn't mean it will be the right fit in a year – or even a month.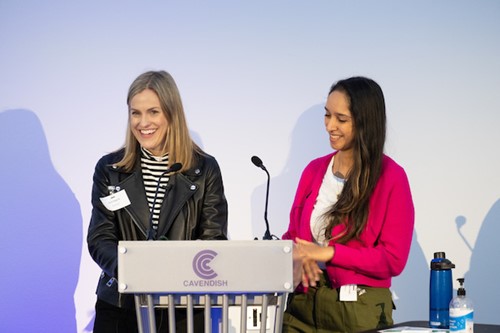 Avison Young found that employees take advantage of choice, so they created various spaces for individual and collaborative work and let employees work where best suits them. At Kingston University, they are planning a year-long review process and have formed an agile working review group.
It is clear that whatever the sector or company size, hybrid strategies must be flexible to succeed.
Designing inclusive offices
Those of us that have worked from home have come to realise the importance of our environment. For some, being in control of the temperature at home is much more preferably than being at the mercy of the person in charge of the heating in the office. Others may have much more natural light at their office desk than a basement flat.
However, for some people these environmental factors are much more critical. Kay Sargent from HOK and Leslie Thompson from Tarkett North America shared that one in seven people are considered neurodiverse. These people can have sensitives on a scale of hyper to hypo, and disabilities can occur when the environment impacts the individual.
Their research identified numerous challenges to neurodiverse people, including sound, light, temperature, the number of people in a space, proximity to others, confined spaces, patterns, colours and texture.
While creating the optimum space for every single employee might not be possible, Kay and Leslie did share a few tips for design strategies. These included giving employees the choice of where to work, creating spaces that allow ease of movement, ensuring employees that need a dedicated space have one, and maximising natural light.
A lot of these ideas align with hybrid and wellbeing workplace strategies, so the hope is that businesses will consider neurodiverse employees when planning workplace transformations.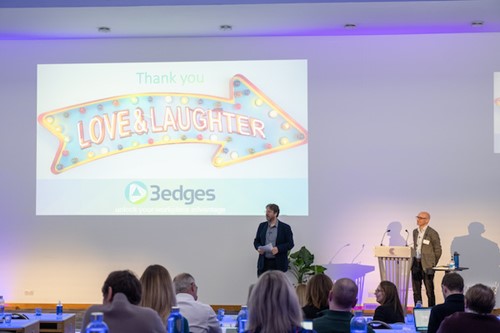 People-centric businesses prosper
Perry Timms of People & Transformational HR kicked off the conference with a great talk about the power of people and socially conscious businesses. He cited CBI research that found that companies that focus on people and social aspects are more profitable and sustainable.
He stated that HR, FM, IT and workplace teams must all work together and strategic workforce planning. As with Steelcase, Perry noted that employees must value their place of work otherwise they won't go, unless mandated.
The conference was a great experience and we look forward to passing on our learnings to support our customers with their workplace strategies.
All images courtesy of Vanessa Champion and Workplace Trends Research Summit.