In recent years we've seen a genuine increase in the number of businesses taking positive steps to reduce emissions and combat their carbon footprint. This can range from cycle to work schemes, going paperless, improving energy efficiency, and ethical waste management and recycling schemes.
Every business will have different areas it can focus on to reduce carbon, depending on its size and sector. But one thing that almost every business has is office furniture, and it's an area where smart strategy can lead to great results.
What is the carbon footprint of office furniture?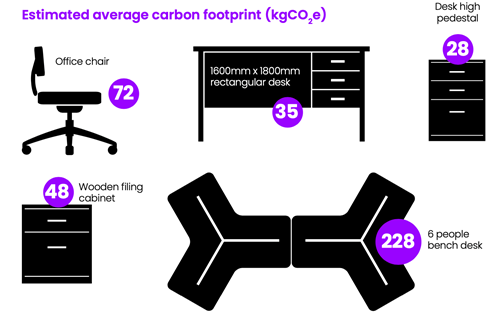 The estimated average carbon footprint of an office chair is 72 kgCO2e, 48 kgCO2e for a wooden filing cabinet, 35 kgCO2e for a rectangular office desk and 228 kgCO2e for a six-person bench desk. See our carbon saving PDF for more information, including the carbon footprint of each separate material in different items of furniture.
The carbon dioxide emissions of office furniture are all in the form of embodied carbon – the fossil fuels emissions created in the sourcing of materials, production of items and transport.
According to a 2011 report from the Waste & Resources Action Programme, 1.2 million office desks and 1.8 million office chairs go to UK landfill every year. With many businesses now downsizing, redesigning to make more communal space or swapping out traditional offices for flexspace, it wouldn't be surprising if these numbers were to increase.
Every item thrown into landfill is a waste – but it doesn't have to be that way.
Why is office furniture discarded?
It's important to understand why office furniture is discarded in order to address the issue.
One part of the problem is the proliferation of 'fast furniture'. This is cheap furniture made with multiple parts, often shipped from distant countries. A lot of parts do not have replaceable components and they have a shorter lifespan than high-quality products.
While buying an expensive item might be more of an initial outlay, it will likely be much cheaper in the long run as it will last for many more years. This is a plus for your budget as well as your environmental impact.
Another reason that workplace furniture is discarded is that companies do not know of other options. Our customers work with us because we present a range of alternatives to landfill, and we have the network to deliver on our promises. For example, we work with Business2Schools to donate unwanted office furniture to schools throughout the country on behalf of our customers.
Finally, some businesses simply use landfill as the easy option. Not only is this bad for the environment but throwing items in landfill is akin to throwing money down the drain – almost any item can be reused or repurposed in one way or another.
How to reduce the carbon footprint of your office furniture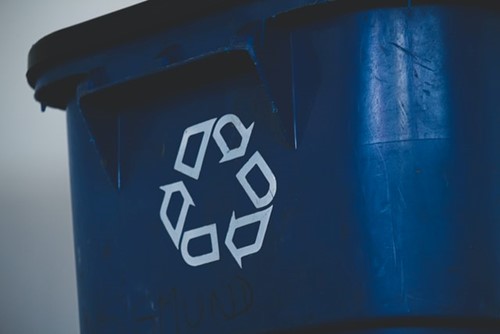 There are two key ways to reduce the carbon footprint of your office furniture: make informed purchasing decisions and avoid landfill at all costs.
At the purchasing stage, first consider if you even need a new item. Perhaps your business already has it at another site, or you have an existing item that can be refurbished to make it as good as new.
Carry out a detailed furniture audit that includes the condition and location of all furniture items in your business. This will be a huge help to make strategic decisions that will support the environment and reduce costs.
If you do decide to buy a new item, some ranges of office furniture come with an Environmental Product Declaration (EPD) which will detail the resources used to produce it. For products without any EPD, consider if they are made locally or check the manufacturers website for other information about their sustainability credentials.
As for alternatives to landfill, there are numerous options:
Refurbish – breathe new life into existing items, which you can either reuse or sell
Relocate – if your business has multiple sites, check with staff at other locations to see if they could make use of your unwanted furniture
Sell – we've helped clients reduce the costs of a workplace change project by up to 50 per cent by selling unwanted furniture
Donate – there are plenty of charities that take furniture and IT equipment
Store – although not a long-term option, placing items in storage can be a useful option while you are in the process of a workplace change project
Recycle – it helps to think of recycling as the last option instead of landfill. Do your due diligence to find a partner that guarantees materials will be recycled and will provide a report at the end of the project
Conclusion
Sustainable furniture management is something that almost every business can do to make a genuine environmental impact. There are many benefits, including:
Lower carbon footprint and reduce CO2 emissions
Cost savings
CSR boost from donated items
Improve business standing with customers, employees and investors
Business Moves Group supports major businesses across the UK with furniture management. Read more about our waste management and CSR credentials, and contact us today to discuss how we can support your business.