Vintage Cash Cow is an online vintage asset buyer, aimed at individuals looking to declutter their homes by selling unwanted jewellery, silver, cameras, militaria, and more. Experts then appraise the items and offer the seller a price.
The business operates on a sustainable model guaranteeing that all items see a new lease of life and never end up in landfill. Vintage Cash Cow has grown in stature over the last three years and outgrew its old premises which saw several departments split over three floors. This no longer suited its space requirements, so the leadership decided it was time for a change.
Business Moves Group partnered with Vintage Cash Cow to manage its site relocation from its old premises to a new warehouse on Gelderd Road in Leeds.
Minimising business downtime
Vintage Cash Cow is a business that operates seven days a week, so timeframes for the move were going to be challenging. An allocated move champion was assigned to each team to ensure there was minimum downtime for each department. Weekly meetings were held on-site, enabling detailed planning to ensure no part of the business would experience disruption during the relocation. The BMG team also worked closely with Mike Hinchcliffe from the Vintage Cash Cow team to fully understand the business and ensure the move would be completed in line with its requirements.
The relocation involved storage racking, furniture, and stock being moved to the new premises. The racking used by Vintage Cash Cow required specialist fitting teams to dismantle and rebuild them in the new space. This process took place across a five-day period to ensure that the new site was ready for new stock to be brought in as soon as possible, without disrupting ongoing business at the old site.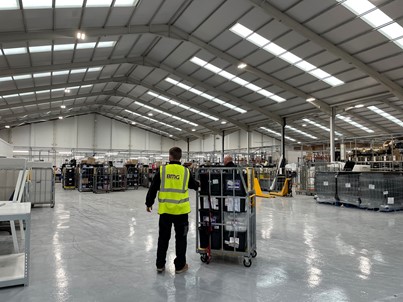 Once the racking was complete in the new warehouse, the movement of stock could begin, allowing staff at Vintage Cash Cow to make efficient decisions about where the new stock would be organised. As the new site remained under contractor control during the move, BMG required CSCS cardholders at hand to help deliver the work due to the nature of the site, otherwise, access would not have been permitted.
A happy client
With these solutions, BMG delivered its relocation services to Vintage Cash Cow without any issues, with all works being completed on time.
Mike Hinchcliffe, head of revenue and marketplace at Vintage Cash Cow said:
"BMG worked to support our need for a speedy move & allowed our business to move premises with just one day of lost productivity. The BMG team planned & executed our planned move perfectly, going the extra mile into a weekend, and providing additional equipment and support at short notice. I wouldn't hesitate for a second to highly recommend BMG. In all a fabulous service & great value for money to boot."
Experts in relocation
Business Moves Group has supported several asset-based businesses like Vintage Cash Cow with years of experience in all things site relocation. View our full range of services and contact us to discuss how we can support your business.